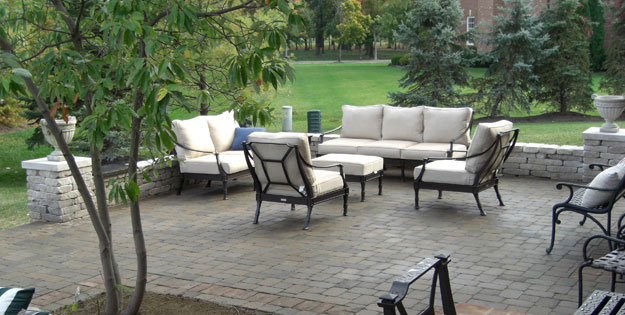 Paver Patios Columbus Ohio
Suncraft's expert patio designers create each paver patio plan drawn to scale with your budget and function in mind. We draw scaled patio plans and designs and recommend the paver patterns and paver colors that best compliment your home's scale and color palette.
Our company trained paver installation crews provide expert professional installation of interlocking concrete pavers, clay brick pavers, and tumbled pavers in patterns including Muster K pattern, herringbone pattern, running bond pattern, basket weave pattern, cobblestone, and random patterns with a soldier course paver border. Pavers are installed on a base of compacted gravel and sand which is graded for proper drainage.
Step down to a paver landing and paver steps from your back door to a curved or angle shaped paver patio. We can even incorporate retaining walls and paver seat walls with columns. Ask one of our talented Suncraft designers about outdoor kitchen designs. We can help with your patio furniture layout and landscaping ideas including water features too.
Paver Patios Columbus Ohio by Suncraft Design.
Select the project you would like to see:
Available features and options:
Interlocking pavers
Concrete pavers
Tumbled pavers
Brick pavers
Paver steps
Paver landing
Paver walls
Paver seats
Columns
Outdoor kitchens
Planters
Soldier course border
Circle pattern
Clay pavers
Herringbone pattern
Basket weave pattern
Muster-K pattern